A coach can help you a become better you – You'll gain clarity, accountability, and focus to see your career goals through.
---
Our Programs:
Proactive Strategy Success System
Career Achievers
State of Your Career
---
We believe that a well-rounded leader must take care of her entire self: Spirit, mind and body. We take a holistic approach with our clients by integrating coaching, skills training and image consulting to help each client feel confident, competent and credible.
---
Proactive Strategy Success System
A 12-month, private, customized coaching program that grooms you into the exceptional leader you aspire to be. Here are the stepping stones that comprise our program:
1. PLAN: Proactive Career Strategy
In this foundation building phase, we perform a career check-up to gauge where you are in your career and to explore what you really want in your career. By creating your power statement, you will align your unique gifts to your career needs. Setting your career goals, you will create and execute your action plan. Monthly, we will review your plan and tweak as necessary.
By the end of this phase, you will be clear on what you want in your career and have a road map to get there.
2. POSSESS: Proactive Leader Strategy
In the POSSESS phase, you will discover your leadership style. You will also learn which skills are essential for executive leadership and take an inventory of the skills you need to gain. You'll learn how to shift your mindset from managing tasks to creating vision and executing strategy.
By the end of this phase, you will have developed the essential qualities to become an exceptional executive.
3. POSITION: Proactive Image Strategy
In the POSITION phase, you will learn how to be comfortable in your own skin while positioning yourself as a qualified leader who is ready to advance. I'll help you build your personal dream team to help develop your personal brand. We'll also explore and address the internal and external barriers that may prevent you from looking and acting like a leader.
You will also identify your fashion style, learn what clothing works best on you, enhance your appearance with makeup, hairstyle and accessories, and build your professional wardrobe.
By the end of this phase, you will have a positive public presentation that reflects your personality, style and career goals.
4. PILOT: Qualified Leader Coaching
Managing your career is important because it helps you reflect on where you are and whether you are on the path to where you want to be.
Throughout your career, you may experience challenges such as conflicts with colleagues, salary disparity, sexism, ethical dilemmas, competing life/work demands, high expectations, and other crises that may affect your well-being. Coaching can help you put everything in perspective and get you back on track.
The Qualified Leader Executive Coaching program helps you overcome career and workplace issues.
Your secret special team to help you navigate your career.
When you complete the Proactive Strategy Success System, you will:
Understand your natural leadership personality and how you communicate with others
Be clear on what you want to do in your career and have an actionable plan to get there
Know your leadership style and how others comprehend you
Develop the skills essential for effective leadership.
Have a professional public image that reflects your personality and style.
Receive support to help you navigate your career journey and overcome workplace challenges
Become confident in your abilities to achieve your dream job and your future
---
Career Achievers Program
Our Career Achievers Group Coaching is a six-month program based on our Career Strategy Blueprint. Learn more about each strategy:

1. Know and Own Your Power
Knowing your power involves embracing what makes you unique and understanding your purpose. It's being aware of your strengths and weaknesses and being okay with your imperfections. You're not supposed to be perfect – no one is. Your skills, abilities, and purpose become your foundation that you can use to guide your decisions and actions. The path to finding your purpose peaks with creating your personal power statement: your manifesto.
This program is great for you if:
you are unsure about your purpose in life
you lack confidence in who you are
you are not sure about what to do with your life
are unclear about your skills and abilities
want to stop holding yourself back due to fear
want to develop such a powerful belief in your potential and feel unstoppable
---

2. Get Clear on Your Career Path
Owning your career path is having a clear sense of direction for what you want in your career. Your career is the means to achieve your purpose. By setting goals, you have a road map to achieve your career dreams. Armed with your purpose, you can create a plan to achieve your career goals faster.
This program is excellent for you if:
you are unsure about the next steps in your career.
you are unsatisfied with your current career progression
unsure that you're on the right track in your career
you are considering changing industries
Affected by downsizing, lay-off, or other job loss
---
Leadership Development:
3. Develop Your Leadership Muscle
Successful leadership is more than regurgitating theory, hearing yourself talk and/or looking authoritative. We help you develop the essential qualities necessary to become an exceptional 21st century executive.
Are there any skills you lack or may need to improve? We help you gain it. What are the degree or educational requirements for the leadership position you aspire? Executive leadership requires a shift in mindset from managing tasks to creating vision and executing strategy.
This program is outstanding for you if:
you aspire to senior leadership
your company lacks a formal leadership development program
you want to get the skills necessary for leadership
are a manager who wants to improve employee engagement
you want to become a more effective leader
---
Image Consulting
4. Executive Presence/Personal Branding
How do you show up to connect with those around you? What are you known for? We tackle executive presence – what that means to you and your career as a leader and how to achieve it. Learn how to develop a leadership presence that reflects the real you.
A part of being powerful is being confident in your skin. You'll also learn how to use clothing as a tool to achieve your career objectives. The goal of strategic dressing is making sure you fit with the company's dress culture while adding your own style. Use your clothing to convey your qualifications as a leader and as a resource for your career plan.
This program is wonderful for you if:
you want to build your personal brand
you want to communicate more effectively
you want to learn how to handle tough situations with confidence
you want to learn how to integrate your personal values and personality into your communication with others
you want to inspire others as a leader
you want to develop the soft skills necessary for career advancement
you want to look, act and sound like a leader while being true to yourself
---
Executive Coaching
5. Overcoming Workplace Challenges
As your career journey progresses, you will experience setbacks, barriers, and other challenges. Bias, discrimination, harassment, pay inequity, and faulty beliefs may sabotage your success. We help you ask yourself the hard questions and plan how you should respond. When you do, you may find that the situation becomes less stressful. Being aware of those situations and creating a plan to overcome them will help take some sting from such experiences and is less likely to overwhelm you.
For instance, consider balancing life and work.
Is there really such a thing? Don't spread yourself thin by trying to spend all of your efforts attempting to balance your needs with the needs of your family and work. It's a myth that you can perfectly balance work and life. Your personal life will spill over into your work life, and vice versa. The key is to make it work for you. Stress, time management and organization challenges can be overwhelming. A healthy integration is a necessity! We help you pinpoint what's causing the most stress in your life and explore solutions to improve the situation.
This program is for you if:
you are experiencing a barrier to your career progression
workplace issues are weighing you down
you need a sounding board to help you sort your thoughts
you feel you are failing as a leader and you're not sure how to turn everything around
you are experiencing a crisis that affects your career
---
Career Management Strategy Coaching
6. Manage Your Career
It's important to review your career goals to make sure you're on track to meet your career goals. You can also take this time to explore whether your goals are still relevant to your needs and to tweak as necessary. We'll help you conduct a "State of Your Career" review in which we go over your career goals to adjust for any changes and to ensure you're on track to achieving your career goals.
This program is for you if:
you have not achieved your career goals and not sure why
you're unsatisfied with your career path
---
State of Your Career Annual Review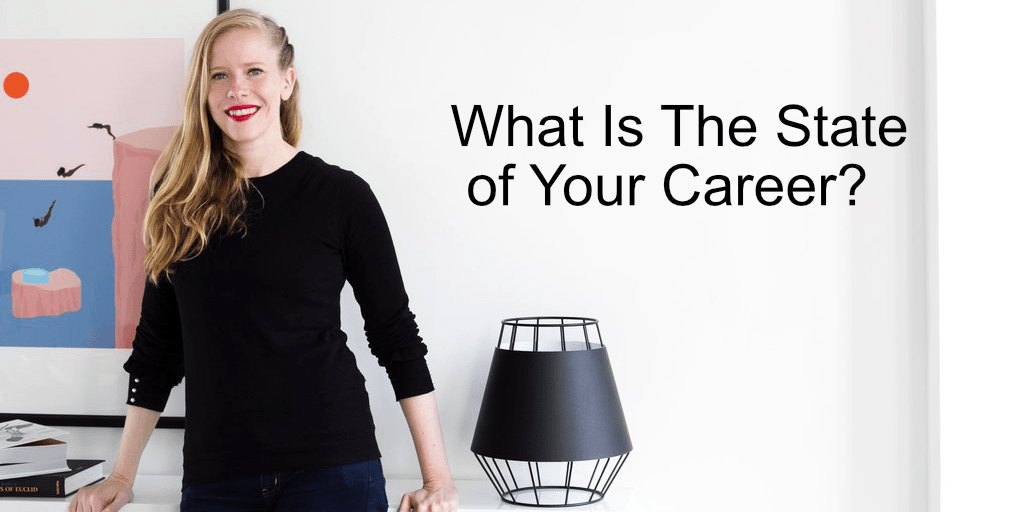 A check-up for your career
Our State of Your Career Annual Review is an opportunity to take a breather and really look at your career. A 90-minute checkup session, we'll explore the most pressing area in your career at the moment. I help you sort your thoughts if you feel stuck, address current challenges, or confirm whether you're on track to achieve your career goals. (This is a great place to start)
Learn more about State of Your Career Annual Review.
---